After the globally disastrous year of 2020 ... we at Misc. Goods needed to bounce back and I'm very thankful to report that we did!
Sales were up, we made some new hires, and we released some new best-sellers. Let's review.

I (Tyler) have many areas of my life that I need to work on but having more optimism is not one of them. The year of 2020 was bad for us at Misc. Goods. Our revenue was cut in half and there was no clear reason to believe that 2021 would be different. But for some reason, I did believe it would be different and went forward w/ the business as usual. We started off the year as usual by traveling to trade shows and putting together the year's photography. I also got the chance to purchase our first company van! This wasn't because we were flush w/ profits and needed to find something to invest in. No no no. This was simple necessity. My previous (personal) van finally died after taking much abuse, including a bullet hole (not kidding).
My two oldest kids and me sitting next to "Big Boy" the day we purchased the new Misc. Goods company van.
One morning in early January I woke up my two oldest sons and told them to pack their bags. I took them on their first plane trip, landed in Roanoke, VA -- signed the contract and drove home in our new work/life van.

One thing I've learned about running Misc. Goods is that there's a time to take risks and a time to look for easy-wins. Our line of fragrances and incense are an easy win for us and we needed to focus the first part of this year on low-hanging fruit. For that reason, we launched our Cone Incenses, marking the first product release of the year. In personal news, my son North broke his leg sledding. Not fun.
Our Slim Wallets quickly became a customer favorite over the years and that motivated me to try something new.
I originally designed the Slim Wallet to be as minimalistic as possible ... because that's what I personally needed. But with our own laser cutter in the office I had the opportunity to test new ideas and started designing our Long Wallet and Passport Wallet. As a designer, it's really cool to be your own client because once you've built the brand's design language you can keep building off it. That's what we did w/ these new wallets. We referenced the slim wallet design while bringing in some new design ideas that would better serve these new uses.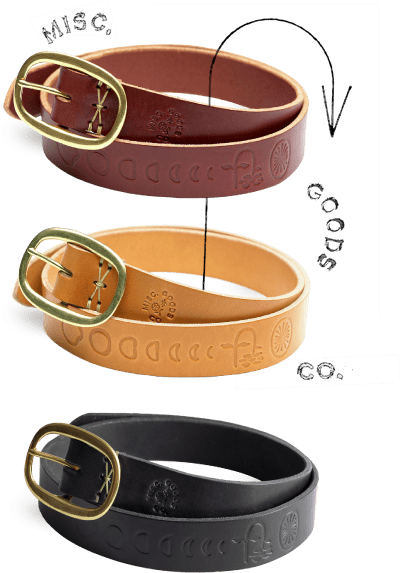 Early on in my Misc. Goods design career I stayed away from designing products that didn't require a lot of intense thought. So a belt was too easy of a challenge for me ... but I'm glad I've changed because the belt is one of my favorite Misc. Goods products. The design is subtle but I love how the stitching, embossing, and buckle turned out. Like I mentioned earlier in this review ... sometimes you have to look for easy wins that make sense and this is another great example of that.
As a graphic designer turned product designer, it was fun to design some new tissue paper for fulfillment packaging.
We launched a new color-way of our best selling Slim Wallet.
The month of June was a highlight for me. We have four revenue streams at Misc. Goods: 1) online retail 2) wholesale retail 3) free-lance graphic design and 4) consulting. This fourth business we do here can provide interesting opportunities. Like this one. Consulting and then later becoming Brand Director for a new start-up tequila company led by two amazing guys (and brothers) Ryan and Matt Kalil. I can't share too much at the moment (we plan to launch in April) but I was very excited when this project took me to Jalisco Mexico to produce a brand video for marketing.
We hired Nadus Films to travel w/ us and spent 3 production days at a neck-breaking speed to capture everything from the traveling, the people, and of course the production. It was a whirlwind but a successful one.
After 38 years of life and 20+ of working ... I've come to a realization of what I love about work. It's not money (although I know we need it). It's not recognition (although it's appreciated). It's learning. I love expanding my ideas, my understanding, and my abilities and this special project w/ Matt and Ryan Kalil has given me the opportunity to do that. Whether it's manufacturing glass, building a sales team, or working through the brand story ... the spirits industry is so different from what we do at Misc. Goods that I haven't stopped learning. And for that I am grateful.
Nothing to report here other than I have landed on the age where I feel comfortable tucking my shirts into my bathing suit. I also have a son that is absolutely into fireworks. That is all for July.
Shoppe Object tradeshow in NY
You build a brand piece by piece, day by day and there are no better building blocks than good PR and good tradeshows. We got both in July when our Roll-On Colognes were featured in Esquire and then we did a great trade-show in NY w/ Shoppe Object.

In September we got to release our newest product Grassland (trademark issue) Meadowland. Designing fragrances is such an exciting process because it's a true collaboration. The first step is for me to choose a place for inspiration and then I wrote a story like this:
"The sweetened smell of hay, warmed by the sun in the rolling hills comes over you as soon as you exit the dense forest. As you enter, you're met immediately by openness. A land full of grass blowing in the wind as far as you can see. The winds coming down from the bordering white mountains is softened as it bends over the hills and through the small community of the locals. Carrying with it the subtle smells of hard work, sweat and ofcourse horses; the people of this land are nothing if they are not horsemen. As you walk through their village you can appreciate the complexity and artistry of their community — yet notice how subtle and rustic it all is. Humble even — yet with clear dedication and attention to detail."
After I have my place written out I accompany it w/ some key words for inspiration and then I send it to Sarah McCartney to mock up. We work together back and forth until we land on the smell that I want. It is a wonderful, creative dance.

With the clear success of our smells it was time to bring them to an application that was more traditional. We love our Roll-Ons and Solid Colognes but the truth is that there are many people that would prefer a spray and for that reason we made our Eau De Colognes. Also ... for business perspective, a company like ours needs to have an Average Order Value of $50+ and to be healthy, we need to offer more products w/ a higher price point. The Eau De collection allows us to give more while getting more.
Misc. Goods is from Louisville Kentucky ... but we've never owned it. We love where we live and we wanted to change that.
I started Misc. Goods on Kickstarter ... getting 4,000 customers all across the world. I moved from that to traveling to big cities like NY, LA and LV for trade-shows where I would meet stores from every big city in the US. We have retailers in China, Japan, Canada, Germany, Australia, UK, Norway, Sweden, Switzerland and Mexico. We sell to one store in our hometown Louisville, KY. That wasn't intentional ... but as we grew the company, that's what happened. We love where we live and we wanted to open up our office to our Louisville neighbors for Small Business Saturday. We partnered w/ my wife's company El Bread to make small, sourdough-hand-thrown-pizzas and we partnered w/ our friend's local distillery Monnik. We ended up making 200 pizzas and hanging out around the fire, sharing the fruits of this great year w/ the city we love. We're excited to do more locally in 2022.

We finished the year on a high note. Sales we're rolling in at a record-setting pace. Partly because we've been growing month after month, partly because our good friend Peter McKinnon featured us on his Youtube channel and partly because of the release of the gift bundle set we created. We also did our annual gift show w/ local event organizers Made Market.
The year crescendoed w/ a hustle of busyness and growth. The energy in our small office was robust. We finished the year w/ over 20% of revenue growth from our previous best year (2019), we sharpened our processes, we hired 3 new people: Joshua, Zac and Sarah and we launched 5 new categories and 18 new products!
Thankful for you our customers and look to do more of the same this year. Until then.
Best,
Tyler Deeb
Owner / Designer