Meet the team pt. 1
Zac & Tyler
The human touch is behind everything we do. Figuratively. As in we design and make products for real, human use. We want to create daily objects that feel good in your hand.
And literally. There's a small team of good people behind every product. The past couple of years, our team has grown into a small family. And it's time to introduce everyone to you.

Production and Fulfillment
Chatting with Zac reminds you of catching up with a good friend. Even if you've never met him. But there's a chance you may have interacted with him. Kind of. If you've ordered from our site, you might have a hand-written note from Zac. Especially if you're from Beverly, MA.
Q: How'd you discover Misc. Goods?
A: During the pandemic, I left a job I was working, packed up my van, and lived in it in Bowling Green, KY. I was helping out with my friend's skate shop there. But on a trip back to Louisville, the van broke down. Engine troubles. So I stuck around for a while in hopes of hitting the road when it was fixed. I started killing time with Tim, who's the Brand Director here. We were working on a zine together, and I noticed he was busy with Misc. Goods as the holiday season approached. So I started doing small projects for them, thinking they'd be short-term gigs. And the rest is history.
Q: Do you still skate?
A: Oh yeah. Been skating for like 20 years.
Q: What's your typical day like?
A: I live close by, so I like to get in around 8:00am and start filling orders. I'll throw in notes sometimes, too. Like today, we had an order shipping to Beverly, MA, which is a tiny town I used to live in. So I slipped a note in with that one. Had to. I like doing things like that if I have time. We are humans making things for other humans. It's nice to connect on that level. Then, I'll do various things throughout the day. Prints, packaging, fulfillment, all that.
Q: And what do you do when you're not working?
A: Music's always been a big part of my life. I have a recording space set up in my house, which is great because I've never had a whole house for that. I write and record under the band name, Woods At Nite. Actually, Joshua, who works here, did a story about it.
Q: What music do you listen to?
A: 90s indie vibes. I've been listening to Helvetia and Bedhead lately. I love Pavement. They're always in the rotation.
Q: What's your next Misc. Goods purchase?
A: Oh yeah. Been skating for like 20 years.
Q: What's your typical day like?
A: The Gray Haven incense. It's not out yet. So for any readers out there, check out the cologne form of Gray Haven in the meantime. But ah. In incense form, it's my favorite.
Q: The Misc. Goods product you use everyday?
A: The Meadowlands Cologne. I use the spray before I leave the house every day. It sticks on my shirt for days.
Q: What does Goodness mean to you?
A: That's a good question. Pun very much intended. I think goodness hits me in two different ways in life. And I can give you examples of both forms.
So last Friday, I was leaving the office and Tyler (Owner) and Joshua (Director of Marketing) were coming back from a coffee shop. We all were joking about something, laughing, and Tyler gave me a big hug before wishing me a happy weekend. Walking home, I was just struck by like, "Wow. That's my boss. The guy who just gave me a hug out of genuine happiness."
That's the kind of goodness you notice.
Then, my van breaking down in Louisville last year. I was pretty frustrated at the time it happened. But it ultimately led to me working with this team, renting a house, and having a cool spot to record music.
That's the kind of goodness you don't notice. At least, not at the time.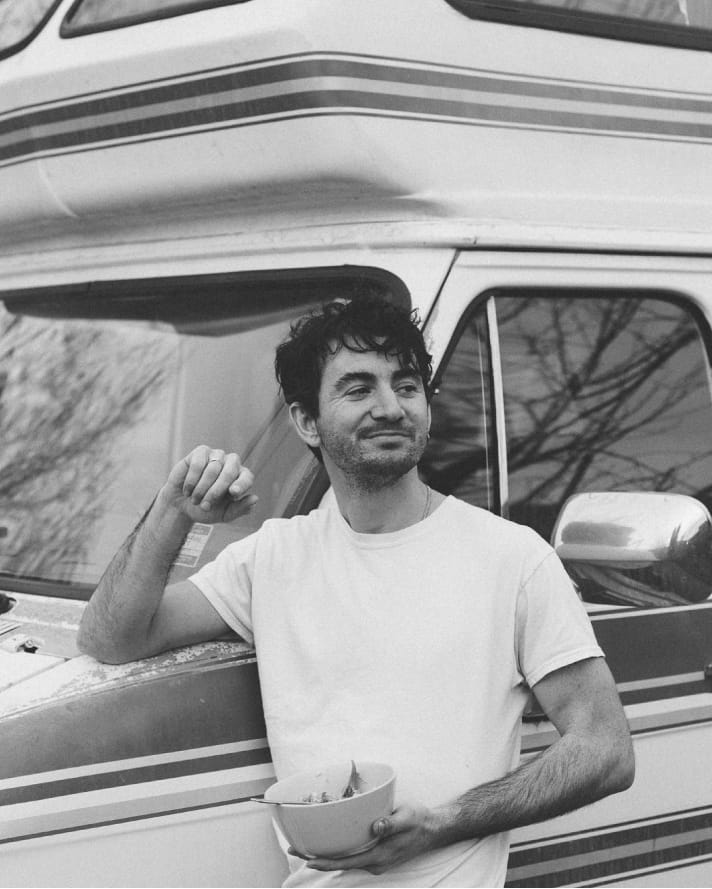 Owner & Designer
Tyler accidentally started Misc. Goods a decade ago. But the continued growth of the company isn't an accident. Quite intentional, actually. Talking with Tyler is a reminder of what "success" really means.
Q: Here we are a decade later. Did you ever think about what Misc. Goods would look like at 10 years old?
A: We built the car while driving it. So no. It would've been impossible for me to predict this. I have a high tolerance for failure, and I like to learn through experience. It's a genuine way to grow. After the first few years, we had like 4,000 customers. And I didn't want to abandon that. The human connection of the company.
Q: When was that tipping point moment when you knew you needed to bring on more people?
A: I was wearing a lot of hats. All the hats, really. Design. Product. Packaging. Fulfillment. Social media. Website management. Etc. I don't get stressed too easily, so it wasn't that. It was more rational. Like at some point, you have to realize that to continue growing, I should bring on someone else to pack boxes so I can focus my energy on what's next. The cool part about growing this way is that I've been in everyone's position who works with us. Literally. So I get what can be frustrating and what can be fun about each role. I don't think it always works like that. But it allows me to create a more peaceful environment by truly understanding the team I work with.
Q: You're undeniably peaceful. But you're also a boss. Do you consciously balance those things?
A: You know, my enneagram has me at an eight and a nine, evenly balanced between the two. Eights are more about power. Nines are more about peace. And I think that's right for me. I'm okay being in control, making decisions for the company. But I want to use that to create a peaceful environment for everyone. Not just our team, but also all the people we work with. The customers. The other businesses. Our partners. Everyone. That's why the company is centered around goodness. And in a weird way, I think it has even turned into a competitive advantage for us. Being good.
Q: What is Goodness to you?
A: It's loving your neighbor like you love yourself. It's interesting, I think the entire world is trying to figure out how to be good right now. We're all failing in different ways. But if you look at every person, every situation, as an opportunity to be good, you'll find goodness in the world.
It's tricky, though. Goodness isn't about avoiding uncomfortable conversations. If someone's being a jerk, I think it's good to chat with them about it. If they're not open to unpacking it or willing to change, sometimes the good thing to do is not work with them anymore.
Q: A lot of people are exploring "side gigs" right now, or thinking about quitting their 9-5s. Advice?
A: Don't. I would suggest keeping a job to support your side hustle. At first, at least. A side project should be about passion. So it won't make financial sense at first. You shouldn't even be counting the hours. Do it because you enjoy doing it. As soon as you make your side project your full-time job, it will become about revenue. Which is okay. Just wait until you've built it up enough that you don't have to completely worry about that.
Q: What're you watching, reading, playing right now?
A: Watching Only Murders in the Building with my wife. Reading The Lost City of Z. And playing Fortnite with my kids.
Q: Next Misc. Goods purchase?
A: We're going to announce a special anniversary deck of cards for the 10-year coming up in October. Definitely those.
Q: Misc. Goods product you can't live without now?
A: The natural deodorant. Without a doubt.